When
Thursdays 6pm to 11pm Pacific, as announced
Email radiants@lookingup.art to ask about the next event
Where
Upside Artspace
1333 Minna Street
San Francisco, CA 94110
What
Every week is different, but these are fairly common:
Making art
Launching your dream project
Learning new techniques
Experimenting with materials
Connecting with new collaborators
Commanding robots
Sharing tasty food
Firing ze lasers
CNC'ing wood
Welding metal
3D printing
FAQ
Do I need to be a member to attend?
Nope. Although we do strongly encourage regular attendees to join as members, to help support the building.
Is there a group chat?
Yes, indeed, it's #radiant-nights in Looking Up's Slack.
What does RADIANT stand for?
Responsible Adults Doing Interesting And Noteworthy Things
What does it look like?
Kinda like this: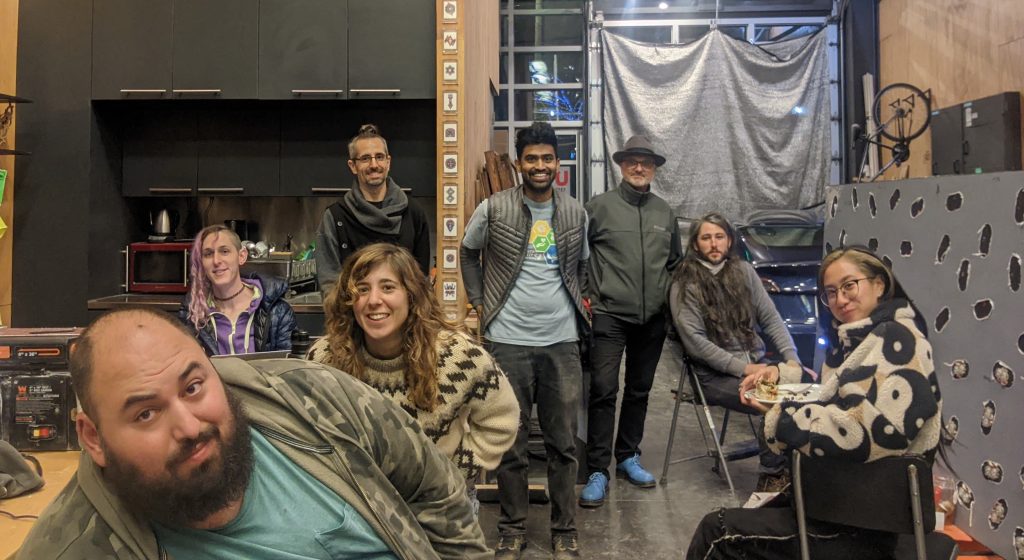 Are there any restrictions?
New attendees need to sign a safety waiver.
Quiet time begins at 10pm, so we can't operate the CNC router or any other power tools later in the evening.
Can I learn to use the CNC router or laser?
Not at Radiant Night. Learning how to use these is fairly involved, so we offer classes, taught by a professional. Email manager@upside.art if you'd like to sign up for the next class.